Overview
Our advisors include a vibrant network of experienced mentors as well as a smaller panel of veteran industry experts called Entrepreneurs-in-Residence (EIR). Mentors and EIRs include entrepreneurs, business executives, angel and venture capital investors, attorneys and others who have sector-specific expertise and can advise on specific aspects of developing your innovation.
Frequently Asked Questions
What kinds of engagements are offered through the program? As part of the Innovation Fund application all teams are required to participate in a four month engagement with an advisor. 
Apply to Join!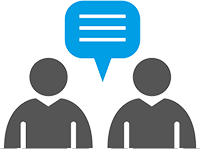 Discover the perfect resource to help create impact with your innovation.
Team DO's
Track your progress.
Proactively engage your advisor.
Keep open communication between all members of the team.
Team DON'Ts
Ask for advice on everything. 
Blame your advisor if his or her advice doesn't work out.
Expect the advisor to know all the answers.