Welcome
The Global Innovation Exchange (GIX) is a global partnership between major research universities and innovative corporations to develop thought leaders in innovation. As a new model for higher education, GIX relies on the strength of its industry partners to stimulate innovation in the workforce and helps solve technological and design challenges.
The GIX Mentor Program helps promote entrepreneurial thinking, innovation mindsets, creative problem solving, and team-based learning.
To learn more, select "For Mentors" or "For Students" above.
Find a mentor today!
Access experts to help bring your team's innovation to life.


Become a mentor!
Let's talk about how you can help.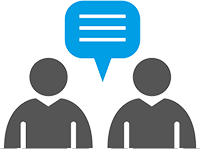 GIX: Developing Leaders in Innovation 
GIX pioneers new forms of teaching and learning by connecting world-class learners and faculty with research-led companies and non-profits to collaborate on solutions to global challenges.